The moment arrives near the end of the video for MC Lyte's "Lyte as a Rock." Over a pulsing hip-house beat by The King of Chill from The Alliance, the clip finds the teenage Brooklyn MC taking command as a prehistoric woman, a Nubian princess, a Roaring 20s gangster, and a Black freedom fighter imprisoned for her beliefs. "The grace as I ease across the stage/Bars around the audience, sorta like a cage/They laugh, 'cause they assume I'm imprisoned/But in reality, they're locked in," she raps.
A house party breaks out, with fly Jacks and Jills down with First Priority Music grooving across the dance floor. Nearly all of the dancers are Black…except for a white woman with shaved hair dancing by a faux marble pillar. It's Sinéad O'Connor.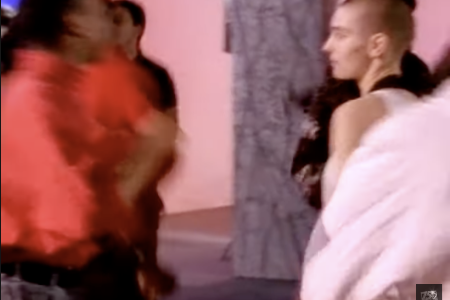 O'Connor's blink-and-you'll-miss-it cameo must've come as a shock to a young viewer watching "Lyte as a Rock" on BET's Video Vibrations in 1988 or, years later, during Rap City's "Old School Wednesdays" show. But it wasn't unexpected. O'Connor, who passed away on June 26 at the age of 56, had dazzled 120 Minutes fans months before with her breakthrough video, "Mandinka." It wasn't just her unusual, shaved head that startled. It was the song's extraordinary tunefulness, and the way its inescapable melodies juxtaposed with her uncompromising punk persona. And then there was her voice, strong and shattering, striking artfully against rippling electric guitar.
As the brilliantly incongruent "Mandinka" moved from the alt-rock ghetto to heavy rotation on daytime MTV and became an unexpected American hit, O'Connor sought out MC Lyte and her production team, the rap duo Audio Two, for a dance remix of "I Want Your (Hands on Me)." Released in May 1988, the accompanying video is an ambrosia of sensual images set to an acid house beat. There are flowers in full bloom, hands grasping together, and a blur of genders holding and caressing one another. O'Connor sings in a white T-shirt and a leather jacket. At one point, someone in a leather jacket — is it O'Connor? — is embracing what appears to be a woman. In another scene, the person in the leather jacket appears to embrace a man dressed as a woman.
Here, Lyte looks distinctly out of place, as unsure of herself as the normie TV audience watching the polyamorous delights unfold. She was only 16 at the time, while O'Connor was 21. "I had only released 'I Cram to Understand You' and she wanted me to appear on her remix," Lyte wrote on Instagram in reference to her first single. Her first album, Lyte as a Rock, hit stores in April 1988, just a month before the "I Want Your (Hands on Me)" clip debuted. The only reason MTV watchers recognized Lyte at all is because her first video and second single, "Paper Thin," had just been released. Yet despite the unusual circumstances, Lyte gamely delivered her guest verse. "I'm not the type of girl to put on a show/'Cause when I say no, yo, I mean no/But when it comes to you I just can't refuse/I beat around the bush, give you all types of clues," she raps.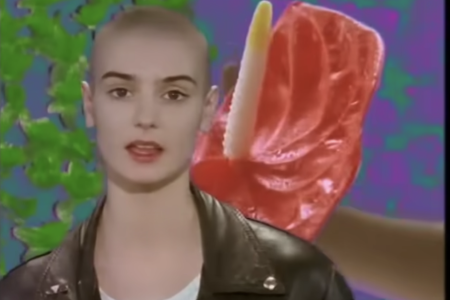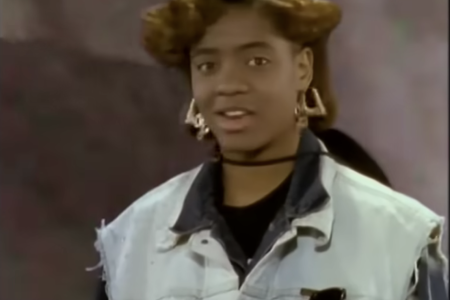 Much has been made of O'Connor and MC Lyte's brief but memorable partnership on "I Want Your (Hands on Me)." O'Connor recruited Lyte and Audio Two at a time when alliances between club-savvy British rockers and American rappers were relatively rare, and mostly limited to U.K. remixes of hot hip-hop singles. Her gesture resonated in a life filled with activism and advocacy.
Yet that moment where O'Connor appears in "Lyte as a Rock" is just as important. It shows Lyte bringing the Irish singer into her world, a scene where house music, New Jack Swing, and funky hip-hop blended seamlessly in New York nightclubs. "Lyte as a Rock" reveals Lyte and O'Connor's collaboration as an equal exchange of ideas, a cross-cultural opportunity to lose oneself on the dance floor and enjoy the pleasure of movement.
Sinéad O'Connor and MC Lyte featured photo by Paula Bullwinkel.
Screencaps of "Lyte as a Rock" courtesy of Atlantic Records.
Screencaps of "I Want Your (Hands on Me)" courtesy of Chrysalis Records.
This post has been updated.
Humthrush.com will always be free to read and enjoy. If you like my work, leave a tip at Ko-fi.com/humthrush.