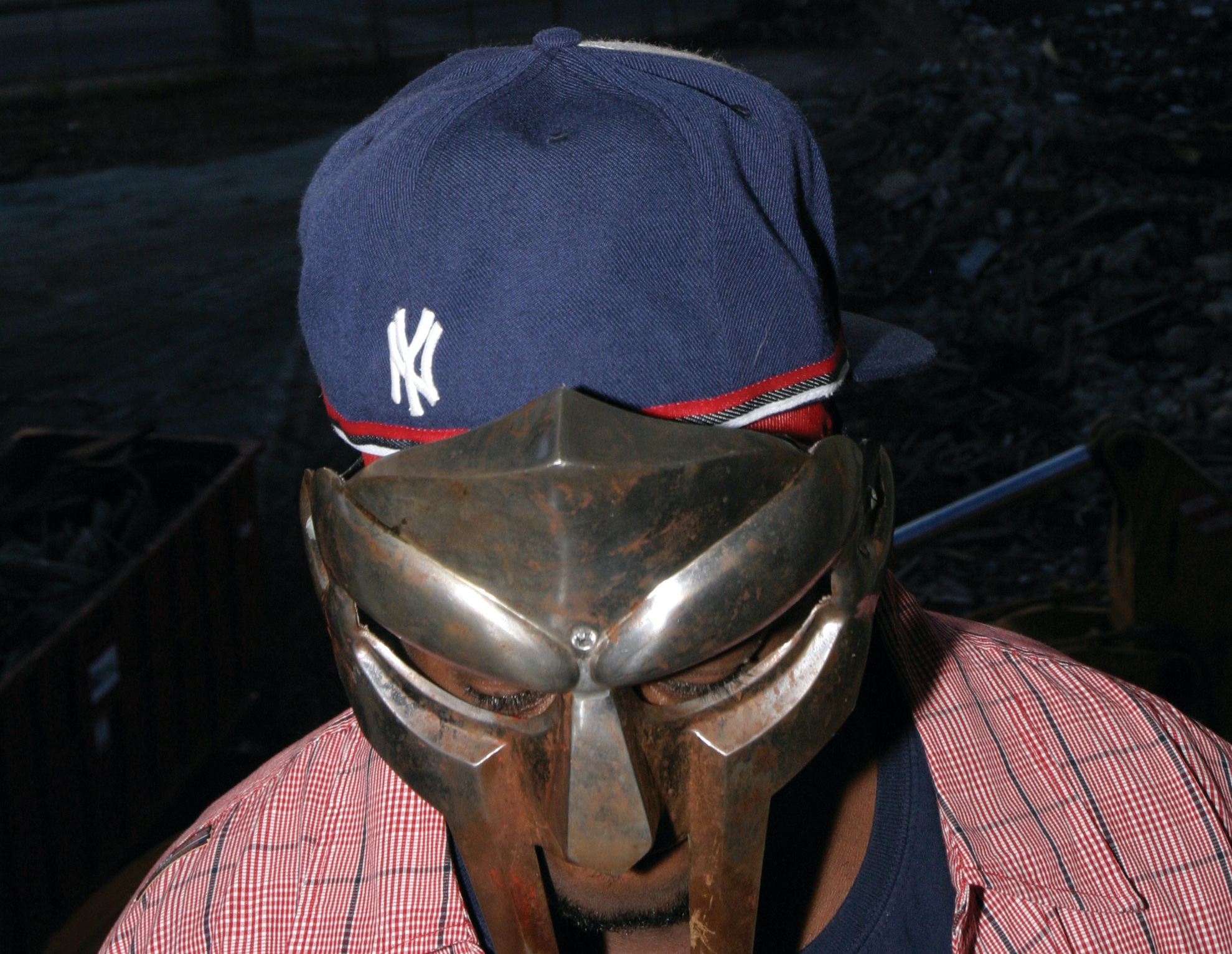 Rest in peace, supervillain.
More soon.
—
(January 9, 2021 update)
Daniel "DOOM" Dumile passed away on October 31, 2020 at his home somewhere in Georgia. The news did not reach the public until two months later. Amidst the shock and sadness from hearing of his death, there was also the realization of how much his life remained private all the way until the end. Before his death, stories abounded that he had been barred from re-entering the United States. So where did he die? What caused his death? Over the next several months, many of his friends, collaborators, distant family and sundry fans will thrill us with conflicting evidence on the last years of his life. (It's likely that his wife, Jasmine Dumile, will remain largely silent for the immediate future.) To paraphrase a track from his seminal Operation: Doomsday, "The Mystery of Doom" may never be solved.
DOOM was a galvanizing antihero. He was arguably the greatest rapper/producer of the indie era: only El-P comes close. He, the late J Dilla and Madlib form a holy trinity of forefathers to the ongoing BTS movement. It's impossible to not hear echoes of his "Special Herbs" sounds, and the way he reconfigured 80s boogie and quiet storm soul, in the styles of Bandcamp beat loopers like Swarvy and Knxwledge. Some have posited that DOOM was the exception to the controversial indie-rap movement of the late 90s, and that his crusty yet elegantly old-school rhyme patterns exposed how haplessly loquacious and lyrically ornate his peers were. But while it's true he didn't waste as much time railing against the mainstream as others, he was very much a man of that moment, even as he transcended it. His collaborations — from fellow Nuwaubian travelers like Scienz of Life to Constipated Monkey homies like Kurious, extended crew like Stacey Epps and Rodan, backpacker producers like Molemen and even alternative voices like Andrew Broder's Fog — are a sign of his generosity and interest in all forms of musical art. Then there's his unmistakable intonations: sandpapery, like an old pair of leather shoes, and diction that could bounce over the boogie rhythms of "Rhymes Like Dimes" as well as stretch out languidly on "Potholderz," with every word emphasized and stretched like gassy drawls.
By now, DOOM's emergence has become legend. Its details hardly need to be recounted: how teenage B-boys Zev Love X and younger brother DJ Subroc formed a hip-hop crew that caught the ear of MC Serch and then Dante Ross; how their debut album as KMD, Mr. Hood, made promising noise in the waning months of the Native Tongues era; and how Zev Love X responded to the death of his brother and the collapse of KMD by conjuring a new persona partly based on a family nickname as well as the Marvel Comics supervillain. DOOM's subsequent lyrics were a product of using cut-and-paste methods from his notebooks as well as mixing colorful Saturday-morning cartoon arcana with gritty New York street slanguage. It's how a deeply emotional track like "Red & Gold" is not only be a tribute to his late brother, but also describes a murder and serves as a testament to his lyrical supremacy as King Ghidra, "the third rail." His themes shifted in odd and pleasingly dizzying ways, none more so than on Madvillainy, his collaboration with Madlib as Madvillain that serves as a kind of master class on producer/vocalist dynamics. In spite of his verbal unpredictability, his albums thrived with a unitary purpose, whether it's the Britishisms of his Key to the Kuffs collab with Jneiro Jarel as JJ Doom; or his foray into electronic hip-hop with the Viktor Vaughn albums.
The mystery of DOOM lingers deepest after his MVP year of 2004, when he released Madvillainy and Mm…Food; and The Mouse and the Mask, his 2005 collaboration with Danger Mouse as Danger Doom that served as a victory lap (and found him cracking the Billboard top 50 albums chart). This is when he began skipping concert appearances and sending his friends to perform in his stead — which earned the nickname "DOOMbots" in honor of the robots Doctor Doom used to evade capture by Fantastic Four. Stories also emerged of him swindling businesses out of money. The "DOOMbot" controversy grew so heated that when Rock the Bells announced him as a performer in 2008, fears over him ripping off customers with more "DOOMbots" led its promoters to cancel his appearances.
DOOM's increasingly ornery behavior culminated in the last solo album released during his life. Born Like This pulsates with magnetic anger and tension, a manifestation of his increasingly macabre personification of a hip-hop villain. Its centerpiece, "Cellz," opens with a recording of Charles Bukowski reading his poem "Dinosauria, We," a parable of humankind bent on precipitating its own extinction. Less charitably, there was "Batty Boyz," DOOM's infuriating recitation of homophobic slurs that he claimed were just a battle against superheroes like Batman and Robin. It's arguably the ugliest moment on wax of his career.
In the following decade, DOOM felt increasingly passé, even as his influence increased through younger innovators like Earl Sweatshirt and Open Mike Eagle. He never made another solo album. His final rap collaboration, Key to the Kuffs, didn't excite fans as much as his previous work. A producer mentorship of teenage rapper Bishop Nehru resulted in NehruvianDOOM (The Sound of the Son), a breezy and charming album that was also easy to dismiss as anachronistic. Collaborations with Westside Gunn (the Westside Doom 12-inch), Ghostface Killah (the DOOM/STARKS picture disc), and Czarface (Czarface Meets Metal Face) invoked his name like a branding mechanism to spark excitement and sell overpriced vinyl. None of them reached the artistic heights of past achievements. Meanwhile, rumors of a second Madvillain foray felt like a fantasy.
If this is all we're left with — which, if the avalanche of uneven Dilla projects following his death is any indicator, seems unlikely — then it's of a quality nearly unrivaled in the hip-hop genre. In spite of DOOM's enigmatic behavior and hustler antics, his claim to greatness is astonishingly clear. His best works have an immediacy and depth of emotion, and his lyrical fluency both dazzles and entertains. We may not understand all of the metaphors and references he stuffed into every rhyme, but there's no dispute that a verbal magician of the first rank wrote it.
Crucially, DOOM was an independent artist, a man who refused to be corralled by the music industry. He expressed this through ways both admirable (working with dozens of small record companies and independent musicians) and felonious. By producing his tracks with little regard for copyright, he not only limited his prospects for mainstream exploitation, but also conjured a world that stunningly blended anti-heroic fantasy and real-world tragedy. His music already feels timeless and destined to please future listeners, the way a child can still be delighted by Ethel Waters and Miles Davis.
Farewell to Daniel "DOOM" Dumile: the greatest rap supervillain of them all.
Photo by Dwayne C. Bass.
Originally published on criticalminded.com. This post has been updated.
Humthrush.com will always be free to read and enjoy. If you like my work, leave a tip at Ko-fi.com/humthrush.