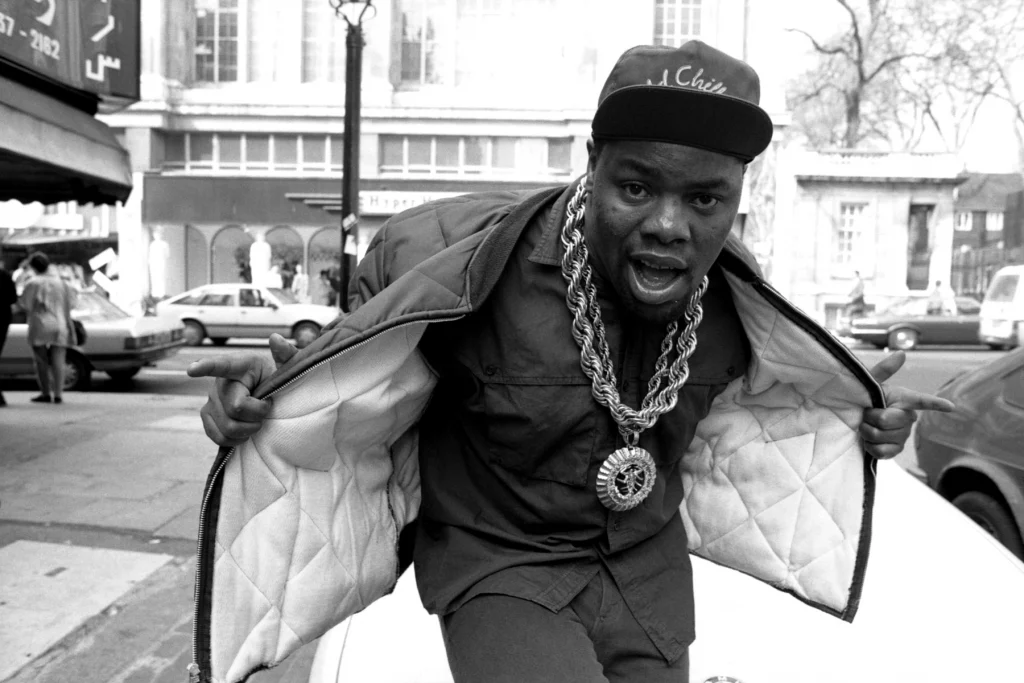 Public mourning is one of the more complex outgrowths of social media. When a celebrity of certain repute dies, their demise is followed by an avalanche of #RIP tweets, some more sincere than others. Media outlets race to regurgitate details about that person for SEO traffic. The process can become disturbingly grotesque. When local and regional rappers are murdered, their obituaries often appear in places that never covered their work when alive. It's not uncommon for terminally ill artists to go "viral" when someone makes an #RIP post before they've even died. Yet no matter your misgivings about this emerging industrial complex of grief for clout, the fact remains that we now honor the deceased in a more immediate and visceral way.
This memorial acknowledges the many voices lost in 2021. It deliberately focuses on the work they created in their lives, not the circumstances behind their demise (which you can find elsewhere on the internet). I tried hard not to pose with aggregated facts about acts whose influence I know little about. As a result, these reminisces vary widely in length, based on my knowledge about their impact. I also had to omit a name or two whose passing I couldn't definitively verify. Time permitting, I'll update this list if I find additional information about them.
---
Virgil Abloh (b. 1980): Designer, producer, vocalist and visual artist. Virgil Abloh symbolized the convergence of hip-hop, internet-fueled apparel trends like streetwear and athleisure, and their tentative embrace by the fashion industry. As a longtime associate of Kanye West, he designed numerous album covers for GOOD Music and DONDA, including West's My Beautiful Dark Twisted Fantasy and Yeezus. One of his best covers was for Lil Wayne's 2013 album I Am Not a Human Being II: a blood-red butterfly that alluded to a lyric in Wayne's "God Bless Amerika" as well as the rapper's well-chronicled health and legal issues. Abloh also contributed remixes and production to West, Michael Kiwanuka, and Serpentwithfeet. His thoughts about creativity can be heard on Lupe Fiasco's 2020 EP, House.
Biaje (b. ?): Oakland rapper and former member of Ill Foe Tha $. Confirmed via Instagram.
Biz Markie (b. 1964): Queens rapper, DJ and producer. Biz was known as the Clown Prince of Hip-Hop, deploying a unique performance style that blended physical comedy, beatboxing routines, storytelling lyrics, a distinct New York vocal accent, and a nimble vocal delivery. He was a key member of the Juice Crew, an essential collective in the early years of hip-hop's golden age. Biz's 1988 debut Biz Goin' Off contained several classic singles issued over a three-year period, including "Make the Music with Your Mouth, Biz," "Pickin' Boogers," "Nobody Beats the Biz," "Vapors," and the title track. He also appeared on noted Juice Crew tracks like Roxanne Shanté's "Def Fresh Crew" and Big Daddy Kane's "Just Rhymin' with Biz." A 1989 gold-certified follow-up, The Biz Never Sleeps brought his biggest radio hit, the timeless "Just a Friend," where his delightfully off-key singing takes center stage. Biz's career was permanently altered due to a lawsuit brought by Gilbert O'Sullivan over his cover of the latter's "Alone Again, Naturally" on 1991's I Need a Haircut. His courtroom loss led to hundreds of thousands of dollars in damages and exerted a lasting, chilling effect on the art of sampling. A few modest hits followed, including "Let Me Turn You On" from his 1993 album All Samples Cleared, the 1996 college radio single "Studda Step" and the late-period 2003 album Weekend Warrior. In his later years, Biz Markie became a party/corporate events DJ and evolved into a beloved symbol of the genre's playful, largely innocent years before big business and billionaire aspirations took hold.
Black Rob (b. 1969): Harlem rapper. Black Rob signed with Bad Boy Records in the mid-90s, then built a buzz with appearances on tracks by Mase, Cru and others. He enjoyed a moment in the spotlight with "Whoa!", a major 2000 rap hit. His debut album, Life Story, also drew acclaim for mixtape gems like "Can I Live" and "I Dare You." He then shined alongside Puff Daddy and G-Dep on the 2001 single, "Let's Get It."
Bunny B (b. 1971): Rapper and member of Lafayette, Louisiana trio Da Entourage. The group is best known for the 2001 bounce rap hit "Bunny Hop."
Chucky Trill (b. ?): Houston rapper known for streaming hits like "Streets Don't Love a Soul."
Deezer D (b. 1965): L.A. rapper best known for starring roles in satirical cult classics like 1993's CB4 and 1994's Fear of a Black Hat.
DMX (b. 1970): Yonkers, NY rapper and member of the rap crew Ruff Ryders. DMX aka Dark Man X's barking, declamatory style proved wildly popular at the turn of the century. His first five albums topped the Billboard charts — including two 1998 albums, his debut It's Dark and Hell Is Hot and Flesh of My Flesh Blood of My Blood — which remains a record. Fans credit him with reinvigorating East Coast street rap at a time when the industry was obsessed with 80s pop and disco remakes. Skeptics faulted him for deceptively simple rhyme schemes, but his best work offered emotional and nuanced takes on Christianity, the nature of sin and male pathos. DMX endured a troubled childhood and stints in prison before emerging in 1992 with a one-off single, "The Born Loser." Subsequent appearances with the Lox, Mic Geronimo and Ja Rule as well as the support of A&R rep/producer Irv Gotti helped him secure a deal with Def Jam. Between 1998 and 2001, singles like "Get at Me Dog," "Ruff Ryders' Anthem," "Party Up (Up In Here)," "Who We Be," "Slippin'," and others made him omnipresent in rap. His success led to roles in action films like the 1998 movie Belly. By 2003, his well-chronicled and self-admitted substance abuse had slowed his career, and he endured numerous tabloid scandals. Nevertheless, DMX's meteoric success and incandescent energy made him a legend in the business, a bright light that burned too hot, too soon.
Double K (b. 1977): Los Angeles rapper, DJ, producer, and one-half of the duo People Under the Stairs alongside rapper/producer Thes One. The group emerged as part of the indie-rap boom of the late 90s, and with a wave of West Coast acts that blended a love for sampling soulful funk and jazz with brightly melodic beats. Double K was the self-described thug of the two, bringing a lyrical dexterity and punchy flow to Thes One's beats. He and Thes One often delineated a contented working-class existence: smoking weed, digging for records, and enjoying the company of friends at backyard barbecues. Their 1998 self-released debut, The Next Step, led to a deal with dance imprint Om Records. For the next 20 years, the group enjoyed cult fame, toured the globe and released projects for a dedicated audience, with 2002's O.S.T. and its classic single "Acid Raindrops" arguably marking their artistic peak. The duo split in 2019 with the release of Sincerely, The P. Double K also released a 2017 instrumental collection as L.A. Mike, Clinophobia.
Drakeo the Ruler (b. 1993): Los Angeles rapper. Drakeo emerged as a major underground artist with a distinctly run-on, offbeat style that hearkened to Suga Free. While local music coverage of the rapper could verge on the hyperbolic, it was clear that Drakeo had the potential to be a major independent artist. However, frequent battles with the district attorney's office damaged his career trajectory, led to years in prison on alleged murder and gang-enhancement charges, and turned him into a national symbol of how law enforcement officials target and persecute street rap artists. Drakeo first came to prominence via producer DJ Mustard, who remixed his viral hit, "Mr. Get Dough." He then authored several acclaimed mixtapes, particularly 2017's Cold Devil. While imprisoned in 2020, he released Thank You for Using GTL, which ingeniously uses vocals recorded over California's Global Tel*Link phone system for inmates. Upon his release from prison, he recorded a single with Drake, "Talk to Me."
Duke Bootee (b. 1951): Rapper, songwriter, and musician. As a percussionist, Duke Bootee was part of a coterie of musicians who powered Sugar Hill's 80s renaissance. But his greatest achievement was developing "The Message." While that song is credited to Grandmaster Flash & the Furious Five, only the voices of Melle Mel and Duke Bootee actually appear. Duke Bootee wrote nearly all of the lyrics; a final Melle Mel verse is recycled from Grandmaster Flash & the Furious Five's "Superrappin'." Thanks to its unrelenting insights on societal decay, "The Message" is now considered one of the most important hip-hop songs ever made. After its success, Melle Mel and Duke Bootee collaborated on "Message II (Survival)," "New York New York," and "White Lines (Don't Do It)." Duke Bootee also co-wrote songs for the Sugarhill Gang, particularly "Funk Box." In 1984, he released a solo album for Mercury, Bust Me Out.
The Gift of Gab (b. 1971): Rapper and one-half of the Bay Area duo Blackalicious alongside Chief Xcel; and a member of the Solesides/Quannum crew with Xcel, Lateef the Truthspeaker, Lyrics Born and DJ Shadow. The Gift of Gab had an erudite, intellectual and buoyant style that sometimes overshadowed his cutting punchlines and ferocious freestyling ability. He also wrote searingly about his own foibles, and his "40oz for Breakfast" is one of the most harrowing accounts of alcoholism in the genre. The crew Solesides helped pioneer the indie hip-hop scene of the 90s, and the Blackalicious recordings set impressively high quality standards. 1995's Melodica and 1999's Nia are widely regarded as classics. A breakout single from the latter, "Alphabet Aerobics," finds him rapping in pattern to the letters of the alphabet, a clever routine that achieved meme status when actor Daniel Radcliffe recited it in a 2014 appearance on The Tonight Show with Jimmy Fallon. The success of Nia led to their only major-label album, 2002's well-received Blazing Arrow. The Gift of Gab also worked on solo albums and collaborative projects, with 2004's 4th Dimensional Rocketships Going Up being a particular highlight. A final solo album, Finding Inspiration Somehow, was released shortly after his death.
Greg Tate (b. 1957): Journalist, author, spoken-word artist, and musician. Greg Tate was one of the first journalists to write incisively and knowledgeably about hip-hop. His 1992 collection of essays, Flyboy in the Buttermilk, is widely regarded as a seminal text of music journalism. As a musician, Tate normally worked in a cross-section of jazz, funk, and rock. He led the band Burnt Sugar Arkestra, and helped form the Black Rock Coalition as a response to segregation in the 80s rock scene. However, his recital of the 1993 poem "What Is Hip-Hop?" for the 1996 spoken-word compilation Flippin' the Script: Rap Meets Poetry is a key moment in rap.
Leonard "Hub" Hubbard (b.1959): Bassist with Philadelphia band The Roots from 1993 to 2007. Fans of a certain era will remember Hub for his striking look in the group's videos: his thick and rough beard, the way he let a twig dangle from his mouth, and his basic-black sleeveless shirts. Visually and musically, he brought a vivid street quality to the band's early work. Standout moments where his bass lines were noticeably present include "Proceed," "The Next Movement," and "Clones." He also frequently performed with trombonist Jeff Bradshaw and participated in sessions with Musiq Soulchild, Nelly Furtado, Jill Scott, and others.
Josephine Johnny (b. ?): New Orleans rapper best known for bounce tracks like "Workin' With Sumthin'" and "Throwback Thong."
Kangol Kid (b. 1966): Rapper and B-boy dancer with the Brooklyn quartet UTFO, alongside the Educated Rapper, Doctor Ice, and Mixmaster Ice. The group is best known for "Roxanne, Roxanne," an electro-rap single that was inescapable among Black youth in 1984. It inspired several "answer" songs where enterprising acts tried to capitalize on the popularity of "Roxanne, Roxanne" — a phenomenon now known as the Roxanne wars — with the most famous being Roxanne Shanté's "Roxanne's Revenge." As the first rapper on the song, Kangol Kid's "z" flow stood out, and kids everywhere tried to mimic his unique B-boy style. Wyclef Jean claimed on Twitter that Kangol Kid is the first Haitian-American to score a rap hit. The group went on to score a handful of popular singles like "Leader of the Pack" and "Ya Cold Wanna Be With Me," but "Roxanne, Roxanne" was their essential moment.
Ketchy the Great (b. ?): L.A. rapper associated with Drakeo the Ruler's Stinc Team.
Lil Loaded (b. 2000): Dallas rapper best known for the 2019 viral hit "6locc Baby" as well his project of the same name.
Lil Theze (b. ?): Vallejo rapper.
Maine-O (b. ?): Rapper with the San Francisco group 11/5. In 1995, the group scored a regional hit with the album Fiendin' for the Funk and the mobb music single, "Garcia Vegas."
Obe Noir (b. ?): Houston rapper. His best-known track may be an appearance on Trae the Truth's "It Ain't Fair."
Prince Markie Dee (b. 1968): Rapper, producer, and member of the Brooklyn trio Fat Boys. Prince Markie Dee was the primary force behind the Fat Boys — originally called the Disco 3 — one of the most successful hip-hop acts of the mid-80s "Fresh Fest" era. The group's 1984 self-titled debut is regarded as a classic, spawning gems like "Jailhouse Rap," "Can You Feel It," "Fat Boys," and the beatboxing showcase "Human Beat Box." A second album brought "The Fat Boys Are Back" and "Don't You Dog Me," and they made a memorable appearance in the movie 1985 Krush Groove performing "All You Can Eat." Always straddling between B-boy skills and corny kitsch, the group eventually veered in the latter direction by making pop novelties like "Wipeout" and "The Twist," and starring in the 1987 movie Disorderlies. After the Fat Boys' career wound down, Prince Markie Dee enjoyed a second phase as a songwriter and producer. He co-wrote Mary J. Blige's "Real Love" and Father MC's "I'll Do 4 You," and worked on tracks for Mariah Carey, Jade, and Nice & Smooth. He also released two solo albums.
Ricky Powell (b. 1961): New York photographer. Ricky Powell was known for documenting the first golden age of hip-hop acts as well as the trendy New York scene, both through his photographs and an 80s public-access show, Rapping with the Rickster. He enjoyed a close friendship with the Beastie Boys, and his images were a part of the packaging for 1986's Licensed to Ill and 1989's Paul's Boutique. His work was collected in The Rap Photography of Ricky Powell and Public Access, among other books. In 2017, he was profiled in the documentary Ricky Powell: The Individualist.
Shock G (b. 1963): Rapper, producer, keyboardist, illustrator, and founder of the Oakland funk collective Digital Underground. Also known as Humpty Hump among other aliases, Shock G's expansive musical persona and songwriting talents made him a leading star when the Bay Area rap scene exploded at the dawn of the 90s. His lyrics conveyed wit and humanism as well as a sexuality that seemed more playful than predatory — although, much like his primary influence George Clinton, he sometimes portrayed himself as a Blaxploitation pimp. Shock G's illustrated artwork adorns most of DU's releases starting with the 1988 single "Underwater Rimes." Backed by the hits "Doowhutchyalike" and particularly the crossover smash "The Humpty Dance," Digital Underground's classic 1990 debut Sex Packets nearly made them pop stars. The year 1991 brought a radio hit, "Same Song," which marked 2Pac's recording debut. The band's second album, Sons of the P, brought another hit, "Kiss Me Back." DU spawned offshoots such as 2Pac, Raw Fusion, Saafir, Mystic, and the production collective The Underground Railroad while Shock G remixed tracks for Clinton, Bobby Brown, Prince and others. As DU's popularity faded with the rise of street rap, Shock G sustained relevance through his work with 2Pac, particularly the hits "I Get Around" and "So Many Tears." He continued to sporadically release music for the rest of his life, with 2004's Fear of a Mixed Planet an underrated highlight.
Slim 400 (b. 1988): Compton rapper known for his association with YG. He scored a handful of streaming hits, including "Bruisin'" and "Hit & Run."
Chucky Thompson (b. 1968): Washington, D.C. producer, songwriter and multi-instrumentalist. Chucky Thompson was a key behind-the-scenes figure in the Bad Boy empire as it successfully conquered the Black music industry with hip-hop swagger. As a member of Puff Daddy's Hitmen production team, he helped craft a high-gloss "jiggy" sound that defined East Coast mainstream rap in the late 90s. Raised in D.C., Thompson spent time with Chuck Brown in that city's vaunted go-go scene before producing the Notorious B.I.G.'s "Big Poppa." In 1995, he worked on Puff Daddy's classic remix of Method Man's "I'll Be There for You/You're All I Need to Get By." Thompson produced and wrote tracks for Faith Evans and Mariah Carey, and landed several credits on Biggie's blockbuster "Life After Death," including the number-one single "Hypnotize." His credits in the 2000s include Nas' "One Mic."
Melvin Van Peebles (b. 1932): Late 60s/early 70s performer. He deserves inclusion on this list because he's one of several recording artists from that period whose vocal work directly influenced rap — others include Gil Scott-Heron, Dolemite, Pigmeat Markham, and spoken-word acts like The Last Poets, the Watts Prophets, and Nikki Giovanni. His solo albums, particular 1968's Brer Soul and 1971's Sweet Sweetback Baadassssss Song, blended poetic verse, blues shouts, gospel choruses, and rangy funk. Madlib sampled Van Peebles's voice extensively on his 2000 Quasimoto project The Unseen, and it led to a collaboration on 2005's The Further Adventures of Lord Quas.
Young Dolph (b. 1985): Memphis rapper. With his deep-voiced cadences and laconic delivery, Young Dolph was one of the more distinctive Southern voices of the 2010s. Like his peers, he excelled at gathering fan enthusiasm via streaming platforms to propel his projects onto the Billboard album charts despite little to no mainstream radio airplay. However, he also knew how to craft strong projects with memorable concepts and songwriting, qualities that resonated beyond the cloistered, dog-eat-dog world of street rap. Young Dolph debuted in 2008 with Paper Route Campaign. A handful of mixtapes on his Paper Route Empire imprint followed before a pair of mixtapes with mentor Gucci Mane drew wider attention. The title of his 2016 album King of Memphis drew the ire of Yo Gotti's CMG camp. A war of words followed, including Dolph's classic 2017 track, "Play Wit Yo Bitch." That same year, assailants shot at Dolph's SUV, an incident that inspired another classic number, "100 Shots," and the album Bulletproof. In 2019, Dolph joined forces with his cousin Key Glock for two Billboard top 10 albums, 2019's Dum and Dummer and 2021's Dum and Dummer 2, as well as the streaming hit "Major." Though widely acclaimed as a prominent rap figure, Dolph's mainstream looks were few, including appearances on O.T. Genasis' "Cut It" and Colonel Loud's "California." But there's little question that Dolph was one of the best Southern rappers of his era.
Zumbi (b. 1972): Rapper with the group Zion-I. Also known as MC Zion and Zion-I, Zumbi nurtured a distinctly Black Bay Area perspective that emphasized working-class struggle, spirituality, veganism, and personal growth. He had a warmhearted and fluid delivery that complimented onetime partner Amp Live's beats. (Other sometime members include DJ K-Genius and Deuce Eclipse.) Zumbi and Amp were also musical adventurers, incorporating elements of electronic music, neo-soul, Yay Area funk and hyphy into their work. Zion-I issued a handful of cassette EPs in the late 90s before earning underground acclaim with "Inner Light," a blend of conscious raps and drum 'n' bass. Albums like 2000's Mind over Matter, 2002's Deep Water Slang and 2005's True & Livin' made them indie-rap stars, and they scored a major college-radio hit with 2009's "Coastin'," a collaboration with electronic pop musician K.Flay. A 2016 track, "Tech $," went viral with its gentrification critique. Zumbi was an accomplished live performer that sustained himself through constant touring, and his sudden death resonated with fans across the globe.
Biz Markie photo by David Corio / Getty Images.
Shock G photo by Jesse Frohman / Getty Images.
Originally published on criticalminded.com. This post has been updated.
Humthrush.com will always be free to read and enjoy. If you like my work, leave a tip at Ko-fi.com/humthrush.