Directed by Estevan Oriel as part of Mass Appeal's ongoing series of Showtime music documentaries, Cypress Hill: Insane in the Brain struggles to encompass the complexity of a highly unique West Coast group. The band's origins in South Gate are dutifully documented. Oriel, a longtime friend who photographed and helped manage their tours, makes clear that Cypress Hill's classic 1991 debut only arrived after years of painstaking demo development. Months after Cypress Hill drops, it takes a fortuitous sync of "How I Could Just Kill a Man" in Ernest Dickerson's cult movie Juice for the album to finally take off. Subsequent concert footage depicts the group as international road warriors as well as pioneering advocates for marijuana legalization, thanks to memorable album cuts such as "Light Another" and "Hits from the Bong."
Mostly, Oriel emphasizes Cypress Hill as tough, tender, and smoked-out musicians. The arrival of Eric Bobo, the son of late jazz percussionist Willie Bobo, prompts a discussion of Latin influences on their music, as exemplified by "Latin Lingo." B-Real notes with pride that Los Grandes Éxitos En Español, a 1999 compilation where they re-recorded their biggest hits in Spanish, helped sparked the Latin hip-hop movement.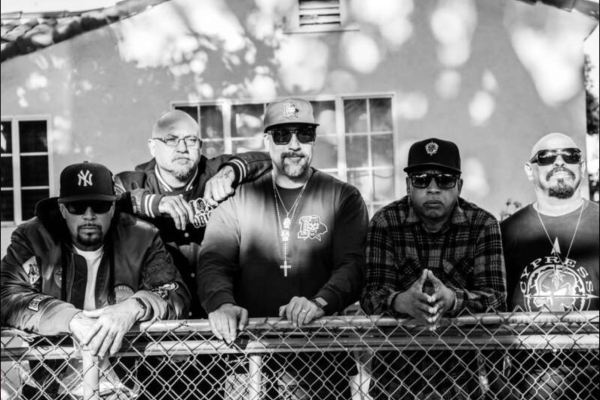 One of Insane in the Brain's standout moments arrives when Muggs remembers flying to New York to meet with Def Jam A&R Bill Stephney, who advises him that his fledgling group needs a concept. (Earlier, Muggs and the crew play an old demo track, revealing how B-Real sounded before adopting his famously nasal voice.) Inspired, Muggs decides that Cypress Hill will be "the Cheech & Chong of rap." Cue the actual Cheech & Chong, who joke that they taught B-Real everything he knows. It's not only an amusing scene because it represents an "aha" moment connecting two generations of Latin-American pop culture. It's also because the genial, fun-loving image the scenes evoke cut against the group's early hardcore persona. After all, the first single from their excellent 1995 third album, III: Temples of Boom, is called "Throw Your Set in the Air," which opens with the sounds of a young initiate being "jumped" into a gang. At one point in the film, B-Real notes that he spent time in the streets and was shot. But Oriel chooses not to dwell on that period in the rapper's life.
Other aspects of Cypress Hill's three-decade career are omitted. The group's many side projects go unmentioned, save for Sen Dog's rap-metal band SX-10, which is explained as part of the hypeman's quest to avoid burnout and try different things. Chuck D appears as a talking head, but he doesn't bring up Prophets of Rage, a band he shares with B-Real as well as members of Rage Against the Machine. There's nothing on DJ Muggs' underrated Soul Assassins crew — although producer The Alchemist, an early Muggs protégé, lends commentary — and Cypress Hill's memorable war of words with Ice Cube's Westside Connection. Those latter two eras are noted in Oriel's 2020 doc LA Originals and Peter Spirer's 2003 doc Beef II, respectively. Even the song that inspired the doc title, "Insane in the Brain," which stands as Cypress Hill's biggest chart hit, is barely mentioned.
Cypress Hill's first three albums, especially 1993's Black Sunday and Temples of Boom, have macabre, sepulchral textures and bleak visions of the afterlife. B-Real and Sen Dog treat violent retribution as a given, and Muggs' hazy, atmospheric production gives the tracks an ominously psychedelic tone akin to The Doors and Black Sabbath, the latter whom the group cites as an influence. Those albums are arguably Cypress Hill's most enduring work. Insane in the Brain offers plenty of anecdotes about the making of their debut, then oddly skips ahead to endless scenes of gigs, bypassing a deeper look at their mid-90s gems. The unabashedly playful "Dr. Greenthumb" from 1998's IV inspires branding opportunities such as B-Real's cannabis business. A 2000 single, "(Rock) Superstar," underlines their hard-rock bona fides and concerts with Y2K rap-rockers Limp Bizkit.
B-Real, Sen Dog, Muggs, and Bobo are in their fifties now. It makes sense that they've opted for a portrait that reflects their current reality as hip-hop survivors, touring the world for smoke and profit. In a final scene, Cypress Hill gather to receive a star on the Hollywood Walk of Fame. It's a triumphant moment, and Insane in the Brain elicits a round of cheers for the crew, even if Oriel doesn't show everything it took for the long-running quartet to get there.
Humthrush.com will always be free to read and enjoy. If you like my work, leave a tip at Ko-fi.com/humthrush.