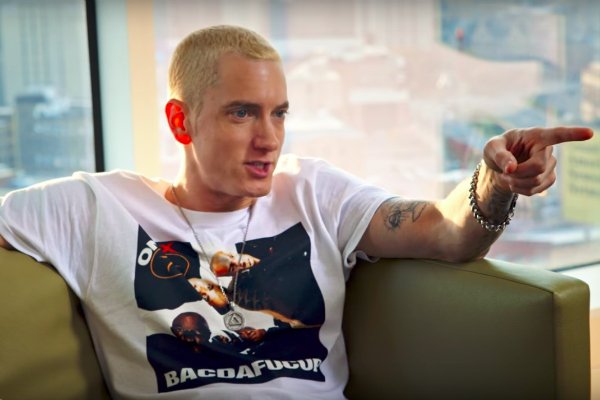 This is a screen cap of Eminem during his interview in the forthcoming HBO documentary The Defiant Ones. When I saw it, I thought about two things:
*In 1994, I witnessed KRS-One give an incredible performance in San Francisco. This was when he was at the height of his powers, and often mentioned as one of the best rappers alive, if not ever. But what I remember most is how he'd frequently stop mid-song and dive right into off-the-dome freestyles, riffing extemporaneously and lodging random disses. One of his unexpected targets was Onyx; he turned to one of his hypemen and said, "You should take off that Onyx T-shirt."
I don't know whether he had "beef" with Onyx, or if he just didn't like their music at the time. Much like the subliminals at rival rappers that Kool Keith lodged during his Ultramagnetic years, Kris' remark may have been the kind of unfiltered opinion you can rarely get away with nowadays, not with Complex and other trendspotting sites ready to pump up any lyrical remark into a controversial "stray shot," and not with audiences filming every performance with their phones for social-media dispersal.
Having said that, when I saw Chance the Rapper perform at the Greek Theatre last year, he said something to the effect of, "Are you ready for the blessings? Not the fake blessings you hear about…but the real blessings." It was clearly aimed at Big Sean's "Blessed," and how the Detroit rapper equated material success with being in God's grace. However, Chance's critique went unmentioned on the Internets.
*Did you notice that Eminem is developing a bit of a widow's peak in the photo? It looks like he's starting to lose his hair.
Originally published on criticalminded.com.
Humthrush.com will always be free to read and enjoy. If you like my work, leave a tip at Ko-fi.com/humthrush.