The Best Rap Singles of 1983 introduced a swelter of voices, a freshman class who collectively represented early sprouts of what would soon be called the "new school" and the first generation of artists to follow the Bronx pioneers who created hip-hop culture. Here's nine well-known hip-hop-adjacent acts from that year.
---
Tony Butler: In 1983, Miami producer/vocalist "Pretty Tony" produced a handful of club hits that had a major impact, including Freestyle's "Freestyle Express," Debbie Deb's "When I Hear Music," and his own "Fix It in the Mix." Though they're mostly known as early examples of what was later called freestyle — a sound largely credited to New York's Black and Latinx community — Butler's influence on Miami hip-hop in general makes him worthy of inclusion.
---
Doug E. Fresh: The Harlem rapper and beatboxer first appeared on Boo-Dah Bliss Crew's "Pass the Boo-Dah," a parody of Musical Youth's "Pass the Dutchie." He'd make a much bigger impact two years later with "The Show," his gold-selling 12-inch as Doug E. Fresh & The Get Fresh Crew.
---
Egyptian Lover: "Dial-A-Freak," a 12-inch from the L.A. mobile DJ crew Uncle Jamms Army, is essentially a showcase for rapper, producer, and vocalist Egyptian Lover. The following year, he scored a Black radio hit with "Egypt, Egypt" and issued On the Nile, which is arguably the first L.A. hip-hop album.
---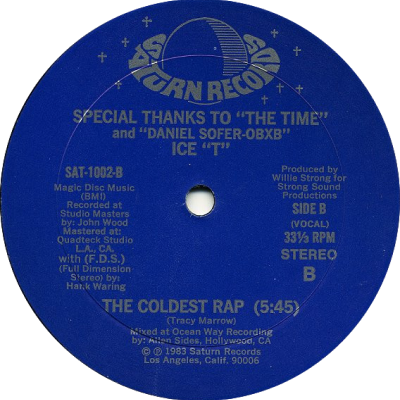 Ice-T: The famed rapper issued his first 12-inch, "The Coldest Rap," a track co-produced by Jimmy Jam & Terry Lewis of The Time as well as Daniel Sofer. In interviews, Ice-T is generally dismissive of his early work prior to 1986's "6 in the Mornin'." I'd argue that "The Coldest Rap" has its charms.
---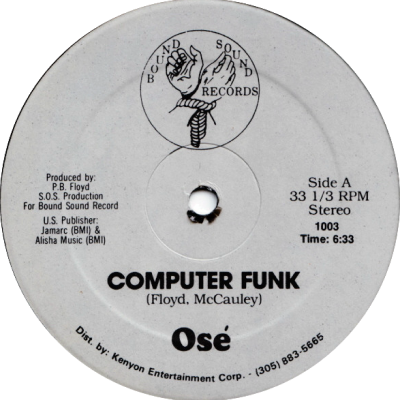 Maggotron: James McCauley produced his first 12-inch, "Computer Funk," under the alias Osé. Much like Butler, the name Maggotron may have more resonance in electronic dance culture. But in the late 80s, he produced several Miami bass records with raps, including Smokey Dee & DXJ featuring Super J.B.'s Hardcore Bass.
---
Marley Marl: In 1983, Mr. Magic's protégé landed his first production credit on Dimples D's "Sucker D.J.'s (I Will Survive)," an answer record to Run-D.M.C.'s "Sucker M.C.'s (Krush Groove 1)." The following year, he made his reputation with an even bigger answer record: Roxanne Shanté's "Roxanne's Revenge."
---
Rodney O: Teenage rapper Rodney Oliver debuted on the Caution Crew's 12-inch "Rhythm Rock (I Like It)." Some argue that the crew's second single, "Westside Storie," is the first song about gangbanging, but a close listen to their lyrics makes that internet claim seem farfetched. Nevertheless, Rodney O didn't achieve stardom until his 1987 12-inch, "Everlasting Bass."
---
Run-D.M.C.: As the leaders of the "new school," the Queens group and their historic debut single, "It's Like That" / "Sucker M.C.'s" hardly need introduction. The 12-inch as well as its sequel, "Hard Times" / "Jam-Master Jay," caused an immediate sensation and set the stage for 1984's Run-D.M.C., hip-hop's first gold-certified album.
---
Silver Fox: Reggie "Silver Fox" Hobdy was a member of Fantasy Three, who recorded two highly regarded cult 12-inches, "Biters in the City" and "It's Your Rock." While he never achieved stardom, Silver Fox has been cited as an influence by several major golden era rappers, including Kool G Rap.
---
An earlier version of this article was originally published in Cutting Room Jams, "Class of '83," November 5, 2023.
Marley Marl featured image by Michael Ochs Archives/Getty Images.
Vinyl images taken from Discogs.
Read More: The 60 Best Rap Singles of 1983
Humthrush.com will always be free to read and enjoy. If you like my work, leave a tip at Ko-fi.com/humthrush.