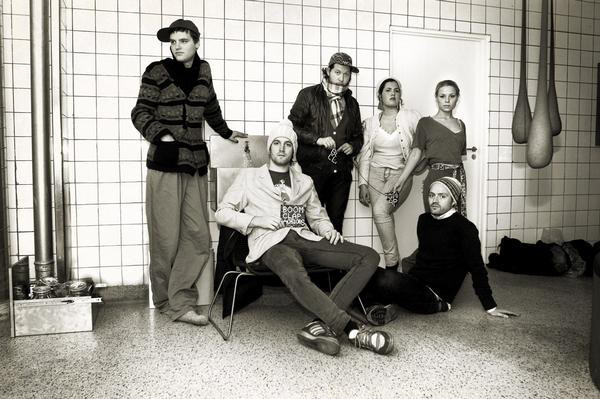 When Kendrick Lamar released his major label debut good kid, M.A.A.D city in 2012, "Bitch Don't Kill My Vibe" became one of its most beloved tracks, with its warm, honeyed electronic soul exemplifying calm under pressure. Fans quickly identified its key sample as "Tiden Flyver," a deep cut from the Denmark collective Boom Clap Bachelors, and the song grew into something of a cult classic, a DJ staple to this day.
Boom Clap Bachelors began as a collective of Copenhagen producers and DJs with a deep interest in black American music, including David Cytryn, Nikolaj "Mumbles" Koch, Ronni Vindahl, Robin "Hannibal" Braun, and Thomas Bisballe. The phrase "boom clap" pays homage to the signature percussive drum sound used by J Dilla and the Roots at the height of the neo-soul/hip-hop movement. Their 2005 self-titled debut fit snugly albeit derivatively into the nu-funk scene sweeping nightclubs at the time. Much of it consisted of instrumental dance tracks, with Keren Gelfer, Liv Lykke and Tuco making occasional vocal contributions.
Boom Clap Bachelors was a calling card to the music industry. By 2007, the collective had signed with Music for Dreams, a Danish label with EMI distribution. A track for Gilles Peterson's Brownswood Bubblers Two, "Combiner," showed that the crew had improved remarkably. They dispensed with the nu-funk pretensions in favor of atmospheric downtempo melodies that prefigured R&B's turn towards ambient vibes in the 2010s. They had also begun singing in Danish instead of English. "The first [self-titled] record was actually in English, but we changed it around because we thought it would be interesting to do something that was cool and progressive in Danish. At that time, there wasn't that much soul-inspired music in our native language," Robin Hannibal told me for a 2013 MTV Hive story.
Cecilie Maja Hastrup Karshøj aka Coco O joined the collective for Kort Ført Dine Læber in 2008, and the album built a buzz through progressive scenes in Europe and America. Meanwhile, Liv Lykke – the lead voice on "Tiden Flyver," with Coco O on background – released a Danish pop album in 2007. Robin Hannibal floated between sundry projects, including a 2006 album with Philip Owusu, Living with Owusu & Hannibal, that marked a breakthrough for his amniotic production style. He and Vindahl teamed with Tuco for Non+, another nu-funk/dance project originally slated for release on Polydor before P-Vine dropped it in 2008.
Meanwhile, Coco O and Robin Hannibal developed Quadron, a name inspired by their multi-racial backgrounds. (The word "quadroon" is a pejorative term in the U.S.) After signing with Danish imprint A:larm Music and submitting "Come You Can Go" to the popular 2008 beats/bass/funk comp New Worlds, Quadron's self-titled debut was licensed to American imprint Plug Research. One of the best R&B albums of the decade, it made the duo critic's darlings and alternative music stars.
As Quadron dropped in 2010, Boom Clap Bachelors' key players moved on to other projects. Both Robin Hannibal and Vindahl moved to Los Angeles and launched successful production careers. Quadron signed a major label deal that yielded one follow-up, Avalanche. Nothing else seems forthcoming for now, despite the occasional Coco O solo single and intermittent Twitter promises that music is coming soon.
A final 2011 EP made from those 2008 sessions, Mellem Dine Læber, yielded the remarkable Coco O showcase "Løb Stop Stå," a dreamlike suite of strings, blue keys and Coco's wonderfully expressive voice. The song is bittersweet, a sign of the group's dissolution just as the world had begun to discover them.
Originally published on criticalminded.com.
Humthrush.com will always be free to read and enjoy. If you like my work, leave a tip at Ko-fi.com/humthrush.