As 2022 draws to a close, this list pays tribute to the several dozen rap musicians who passed away during the year. As with the 2021 list, it focuses on the art they created, not the method in which they passed. The length of each blurb is only tangentially related to someone's importance since, to be clear, I know more about some careers than others. Tragically, a few were only at the beginning of their musical lives. Still, we should acknowledge all of their contributions to the world of hip-hop, no matter how profound or slight.
Finally, please note that this list focuses on US-based rap musicians who died, but I am open to arguments otherwise. (There is one non-US rapper in particular who may deserve inclusion here.) I omitted anyone whose deaths I couldn't confirm beyond stray social media rumors. Time permitting, I will update if I learn of any others who passed during the calendar year, in addition to the usual spelling and grammar corrections I tend to make.
Here's to a bright and bountiful 2023.
---
Archie Eversole (b. 1980): Atlanta rapper. Emerging during the tail end of the "drill sergeant" crunk wave — think Drama's "Left, Right" and Pastor Troy — Archie Eversole released his only album in 2002, Ride with Me Dirty South Style. He's best known for "We Ready," which was initially a regional hit before growing into a sports anthem. In 2019, the National Football League made "We Ready" a centerpiece of its playoff season.
Bernard Wright (b. 1963): Jamaica Queens musician and producer. Bernard Wright built his reputation with jazz-funk crossover projects like his 1981 debut album, 'Nard, the hit single "Who Do You Love," and his membership in supergroup the Jamaica Boys. But like Herbie Hancock, Pieces of a Dream, and other jazz and funk musicians during the first half of the 1980s, Wright experimented with hip-hop idioms. He raps on 1981's P-funk-styled single "Haboglabotribin'," and his 1983 album, Funky Beat, features a breakdancer in motion on the cover. He also collaborated with Doug E. Fresh & the Get Fresh Crew.
Big Scarr (b. 2000): Memphis rapper. Signed to Gucci Mane's 1017 imprint, Big Scarr appeared on Gucci's So Icy compilations. In 2020, he scored a hit of his own in 2020's "SoIcyBoyz" with Pooh Shiesty and Foogiano. That led to a 2021 debut mixtape, Big Grim Reaper, that debuted in the top 30 of Billboard's top 200 albums chart.
Blacastan (b. 1980): Hartford rapper. Known for his pungent, raw verses and energetic delivery, Blacastan was a member of numerous crews, including Army of the Pharaohs, Branch Davidians, and The Demigodz. He also released several albums as one-half of Watson & Holmes with producer Stu Bangas, and collaborated with Mr. Lif and Czarface.
CHII WVTTZ (b. 2003): Brooklyn rapper.
Coolio (b. 1963): Compton rapper. Thanks to his massive 1995 hit single, "Gangsta's Paradise," Coolio epitomized hardcore rap's crossover to the pop mainstream. His mid-90s peak positioned G-funk as barbecue-friendly party music for all ages, a style that didn't always help his credibility as a hip-hop artist. He initially began his career in teen electro crews like Sound Master Crew and Nu-Skool. Coolio then disappeared for a few years as he struggled with crack addiction before resurfacing as part of WC and the Maad Circle along with WC and WC's brother, producer Crazy Toones. Coolio landed a standout verse on the group's single, "Ain't a Damn Thing Changed," which was a minor Rap City video hit. He then signed with Tommy Boy, and released the excellent 1993 solo single, "County Line." His platinum-certified debut, It Takes a Thief, yielded a massive hit in the Lakeside-sampling "Fantastic Voyage." The following year brought "Gangsta's Paradise" for the Michelle Pfeiffer movie Dangerous Minds. He then used that hit as the title track for his double-platinum second album, adding two more pop smashes in "Too Hot" and "1, 2, 3, 4 (Sumpin' New)." He also contributed "Rollin' with the Homies" to the Clueless soundtrack. While rap fans began dismissing him as a sellout, he nurtured his artistry in subtle ways. He mentored acclaimed Carson rapper Ras Kass and "Tennis Shoe Pimpin'" duo 40 Thievz, and appeared on Maad Circle deep cuts like "In a Twist." A third album, My Soul, earned gold certification but was widely viewed as a sales disappointment, and included his final chart hit, "C U When U Get There." He also appeared on 1997's "Hit 'Em High (The Monstars Anthem)."
C.P.O. Boss Hogg (b. 1963): Compton rapper. Discovered by MC Ren, Boss Hogg was one of the first wave of West Coast rappers to follow in N.W.A's wake. His group C.P.O.'s only album, 1990's To Hell and Black, was initially dismissed as gangsta rap boilerplate, but deserves reassessment as a minor gem. C.P.O. Boss Hogg went on to make appearances on the Murder Was the Case soundtrack as well as tracks with Warren G, 2Pac ("Picture Me Rollin'"), and Snoop Dogg's Tha Eastsidaz.
DJ 50 Grand (b. 1967?): Brooklyn DJ and producer. DJ 50 Grand is famous for mentoring a teenage Notorious B.I.G. and assembling a 1991 demo tape that got the budding legend mentioned in The Source's "Unsigned Hype" column.
DJ Kay Slay (b. 1966): New York DJ and producer. DJ Kay Slay's impact can't be quantified in recorded music, though he hosted dozens of mixtapes and a long-running compilation series, The Streetsweeper. With the "Drama Hour" on radio station Hot 97, Kay Slay symbolized New York in the early Aughts, before the rise of dynamic and less ideologically rigid scenes like Atlanta and Chicago eclipsed the city in the rap universe. Through insults, boasts, and gossip-mongering, he chronicled the foibles of the city's heroes and villains, all with charismatic pugilism. "The Drama King" may have been one of New York's last monarchs. Kay Slay first emerged in the early 80s as Dez, a graffiti writer who drew screen time in the classic 1983 documentary Style Wars. After stints in prison, Kay Slay emerged as an influential mixtape DJ in the late 1990s, and landed vocals on Wu-Tang's The W and Cam'ron's Come Home with Me. He also launched Straight Stuntin', a magazine that blended street-culture stories with pin-up models. A New York Times obituary referred to him as "the Jerry Springer of rap."
DJ Wop (b. ?): New Orleans DJ and producer. In the 1980s, DJ Wop formed the now-mythical New York Incorporated with Mannie Fresh, Mia X, and his friend Denny D. In the 1990s, he contributed production to Juvenile's Solja Rags, Silkk the Shocker's Made Man, and Mac's Shell Shocked. In recent years, he held numerous old-school bounce mix shows and parties, often in conjunction with Mannie Fresh.
Don Newkirk (b. 1966?): New York keyboardist, singer, and producer. Newkirk is best known for hosting the oddball game-show skits on De La Soul's 1989 debut, 3 Feet High and Rising, and serving as the announcer on 3rd Bass' hit single, "The Gas Face." Both songs were produced by Prince Paul, with whom Newkirk enjoyed a long and fruitful association. He also played keyboards on "Talkin' All That Jazz," a hit single by Paul's group, Stetsasonic. Buoyed by buzzy attention surrounding those appearances, Newkirk dropped a quirky New Jack Swing-styled R&B album, Funk City. Despite industry acclaim and a modest R&B top 40 hit in "Sweat You," it failed to turn him into a solo star. Over the ensuing years, Newkirk continued to find his way to Paul's projects, as well as solo production assignments like the soundtrack for 2004 movie The Best Thief in the World. In 2007, Newkirk and Paul joined forces with P-funk keyboardist Bernie Worrell as Baby Elephant for the all-star experiment, Turn My Teeth Up! In 2016, the two paired with Mary Ann "Ladybug Mecca" Vieira of Digable Planets and guitarist Rodrigo Brandão for the Afro-Latin-themed BROOKZILL!'s Throwback to the Future. In 2020, Paul and Newkirk recorded a soundtrack for a Netflix series investigating Malcolm X's assassination, By Every Means Necessary.
Earl Swavey (b. 1995): Los Angeles rapper. Earl Swavey was best known as a protégé of the late A$AP Yams, and for collaborations with the likes of production duo LNDN DRGS ("Uza Trikk" with Yams and G Perico), RJmrLA ("Into Something"), and 03 Greedo ("Betrayed"). He released several mixtapes during his lifetime, including 2021's The Dirtiest.
Gajah (b. 1979): Los Angeles rapper and one-third of the trio Acid Reign. Also known as Gajah the Polymorphic Swordfish, he was a well-known participant in L.A.'s sprawling Project Blowed collective. During the last two decades, he collaborated with Abstract Rude, Awol One, Neila, Uncommon Nasa, and others.
Goonew (b. 1997): Maryland rapper. Goonew achieved some fame in online rap circles for his menacing, whispery style and collaborations with fellow Maryland rapper Lil Dude. He also recorded tracks with Lil Yachty ("Homicide Boat") and HoodRich Pablo Juan, among others.
Granddaddy I.U. (b. 1968): Hempstead rapper, producer and member of the Juice Crew. Overlooked during his early 90s career, Granddaddy I.U. developed a cult reputation among fans who revisited his work on the internet. His drolly confident delivery and affinity for business suits have been cited by the likes of Roc Marciano as an influence. Granddaddy I.U. was discovered by Biz Markie, who signed him to Cold Chillin' Records. His first album, 1990's Smooth Assassin, featured the single, "Something New," which became a modest Yo! MTV Raps video hit. He also wrote and produced tracks for Biz and Roxanne Shanté. In 1993, he got into a minor dispute with GZA — who briefly signed with Cold Chillin' as well — over the latter's lines on Wu-Tang Clan's "Protect Ya Neck" about "a suit-and-tie rap that's cleaner than a bar of soap." The following year, Granddaddy unveiled a ragamuffin style for his second album, Lead Pipe, but it sold poorly. In 1995, he made a memorable appearance on Big L's "Da Graveyard" alongside Jay-Z, Lord Finesse, Party Arty, and Microphone Nut. In later years, he assembled projects for fans of his golden-age pedigree like 2020's The Essence.
Half Ounce (b. 1989): Inglewood rapper. He was signed to Mitchy Slick of Strong Arm Steady's label, Wrongkind.
Hurricane G (b. 1970): Brooklyn rapper and member of Erick Sermon's Def Squad. Although underemployed in the music industry, a common plight among women in rap then and now, Hurricane G's brashly Nuyorican hardcore style made her a fan favorite. Her interruption of Redman on 1992's "Tonight's da Night" — "Yo, yo, Redman, man, what the fuck, man?…Get the fuck off that punk smooth shit, man" — is a vintage moment. Other memorable appearances include Keith Murray's "Bom Bom Zee," Xzibit's "Just Maintain," and Cocoa Brovaz' "Spanish Harlem." She eventually signed with Jellybean Benitez's H.O.L.A. Recordings and released a 1997 solo debut, All Woman, which included the underrated single "Underground Lockdown." In 1999, she dropped ad-libs on Puff Daddy's high-profile single, "P.E. 2000." A mixtape with Thirstin Howl III, Mami & Papi, dropped in 2013.
JayDaYoungan (b. 1998): Bogalusa, Louisiana rapper. Known as a melodic rapper in the mode of trap balladeers like Youngboy Never Broke Again, JayDaYoungan released several mixtapes before 2018's 23 earned him a major-label deal. The following year, he scored his biggest hit, "23 Island," from the mixtape Endless Pain. An official debut album, Baby23, dropped in 2020.
Jessie D (b. 1963): Rapper, singer, and co-founder of Force MDs. Forming in 1981, the Force MCs — later known as Force MDs — are legendary for being one of the first hip-hop groups to emerge from Staten Island. Much like Bronx crews like Cold Crush Brothers and the Fantastic Romantic Five, the quintet alternated between sung harmonies and party raps. In his classic 1984 book Rap Attack, David Toop wrote, "With an average age of about 20, they are able to combine rapping and breakdancing with formation steps and vocal harmony which draws from doo-wop, acappella, 60s Motown, the Jackson Five, the Persuasions, television theme tunes and commercials. They can create an orchestrated human drum machine with their combined voices and do impressions ranging from Elvis Presley and Michael Jackson to the gravel-voiced Mr. T." Perhaps the best evidence of the Force MDs early style is "Itchin' for a Scratch," a dynamic breakout hit from the soundtrack for 1985 hip-hop movie Rappin'. However, after signing with Tommy Boy in 1984, the Force MDs shifted in an R&B direction. Their first two albums as well as singles like "Forgive Me Girl" and "Tender Love" are considered influential in the New Jack youth movement that revitalized soul music. Wu-Tang Clan, the best-known crew to emerge from Staten Island, often paid tribute to their impact. In 1996, Ghostface Killah collaborated with Force MDs on the single "Daytona 500."
Jewell (b. 1968): Chicago-born, Los Angeles-based R&B singer. Much like Death Row labelmate Nate Dogg, Jewell Caples is best known for singing hooks on G-funk hits like Dr. Dre's "Let Me Ride" and "Dre Day," Snoop Dogg's "Who Am I (What's My Name?)" and "Gin & Juice," and the Dogg Pound's "What Would U Do." She rarely got a solo showcase worthy of her talents. A cover of Shirley Brown's "Woman to Woman" became a minor hit in 1994, but Death Row prevented her from releasing an album when the label was at its peak. Still, her importance is undisputed: She was featured on the cover of the May 1995 issue The Source alongside Daz, Kurupt, and Nate Dogg. In 2011, she finally released a proper debut, Jewell.
Kee Riche$ (b. 1999): Compton rapper and local activist.
Kevin "The Last Soulman" Jones (b. ?): Detroit rapper and member of A.W.O.L. Also known as Afrocentric Wicked Old-School Lyricists, A.W.O.L. was among the first rap acts to emerge from Detroit. Although A.W.O.L as well as fellow Detroit crews like Awesome Dre & the Hardcore Committee and Detroit's Most Wanted earned national deals, the scene didn't get attention as a major hip-hop hub until Eminem and Slum Village blossomed as stars. Still, A.W.O.L.'s debut single, 1990's "You Don't Want None of This," as well as their early 90s albums are important moments in the region's development.
Lil Keed (b. 1998): Atlanta rapper. Signed to Young Thug's YSL imprint with 300 Entertainment distribution, Lil Keed received critical and commercial acclaim for his high-pitched and wavy melodic style. His 2019 mixtape, Long Live Mexico, landed on several year-end best-of lists. He scored a handful of streaming hits, including 2018's "Nameless" and 2020's "Snake." Young Thug also included him on YSL compilations such as 2018's Slime Language and 2021's Slime Language 2 as well as Thugger's 2019 album So Much Fun.
The Mad Thinker (b. 1967): Chicago rapper and member of East of the Rock. While active locally in the mid-90s, the underground quartet didn't reach a wider audience until four of their demos were pressed on vinyl as the Galaxy Rays EP in 2010.
Meta Mo (b. 1970?): Chicago rapper and co-founder of Rubberoom. With a shout-y aggressive style that incorporated elements of Goth and metallic noise, Rubberoom were one of the most exciting groups to emerge from the Chicago underground during the mid-to-late 90s. They built an underground buzz with the 1995 tape Gothic Architecture, then signed with 3-2-1 Records, one of a handful of nationally distributed imprints hoping to capitalize on the then-swelling indie rap scene. The arrival of a 1999 album, Architechnology, seemed destined to break Rubberoom to a wider alternative audience. Unfortunately, 3-2-1 Records went bankrupt weeks after its release, wasting positive notices from the likes of CMJ New Music Monthly. Neither the group nor Meta Mo quite recovered. Their excellent appearance on 2001's "Cruise Mode 101" by UK electronic noise duo Techno Animal is worth seeking out.
Notti Osama (b. 2008): Harlem rapper.
Patrick Adams (b. 1950): New York producer and engineer. Patrick Adams' pioneering disco career includes Musique's "In The Bush" and "Keep on Jumpin'," Inner Life's "I'm Caught Up (In a One Night Love Affair)," and too many other songs to mention here. In the 1980s, Adams served as an engineer at Power Play Studios. He worked on several important hip-hop recordings, including Salt-n-Pepa's Hot Cool Vicious, Eric B. & Rakim's Paid in Full and Follow the Leader, Dana Dane's Dana Dane with Fame, and Heavy D. & the Boyz' Living Large. He also produced a few rap 12-inches like the Imperial Three's "It's Rough."
PnB Rock (b. 1991): Philadelphia rapper and singer. PnB Rock soared amidst a wave of pop-inflected melodic rappers in the mid-to-late 2010s. He's best known for "Selfish," a lovelorn centerpiece of 2016's GTTM: Going Through the Motions that helped that mixtape earn a gold certification. He also scored hits by guesting on Meek Mill's 2018 single "Dangerous," YFN Lucci's 2016 single "Everyday We Lit," and Ed Sheeran and Chance the Rapper's 2019 track "Cross Me." Signed to Atlantic since 2015, PnB Rock released two official albums, 2017's Catch These Vibes and 2019's TrapStar Turnt PopStar, in addition to several mixtapes.
Snootie Wild (b. 1985): Memphis rapper. Snootie Wild enjoyed brief success when his 2013 melodic trap number "Yayo" broke nationally. He signed with Yo Gotti's CMG imprint and released 2014's Go Mode EP, which yielded a Billboard Hot 100 hit in "Made Me."
Street Knowledge (b. ?): Oakland rapper. Street Knowledge was signed to The Artist, an imprint founded by The Jacka. He collaborated with Mozzy, Philthy Rich, and others.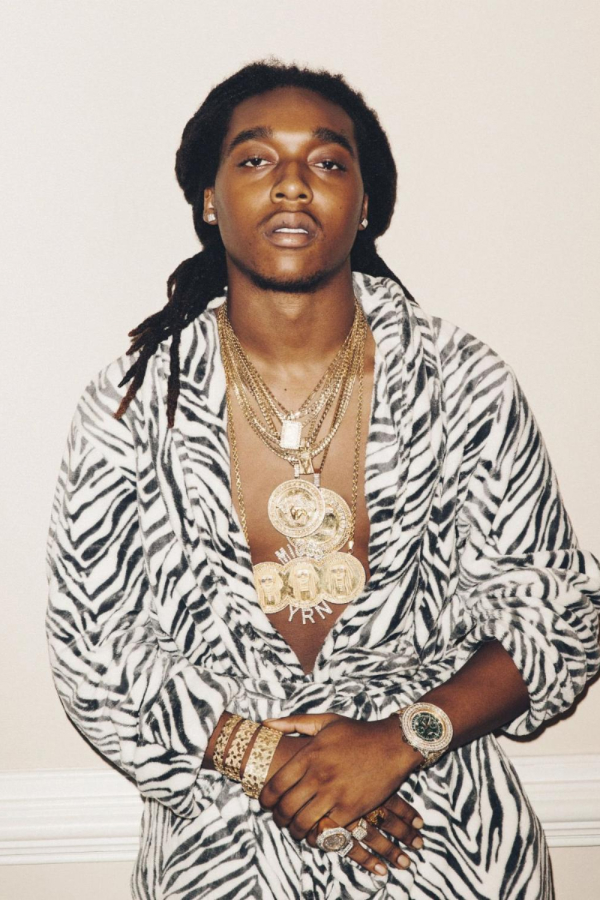 Takeoff (b. 1994): North Atlanta rapper and one-third of Migos. By co-founding Migos with uncle Quavo and cousin Offset, Takeoff became one of the most influential rappers of the past decade, and author of a unique, widely imitated triplet flow. Migos' first hit single, 2013's "Versace," almost single-handedly brought the concept of rap groups back to prominence after years of dormancy. Takeoff was a driving force behind Migos, and much of their famed bob-and-weave delivery is inspired by tag-team wrestling style. After building buzz with two mixtapes, 2011's Juug Season and 2012's No Label, they signed with Quality Control Music. In 2013, No Label 2 brought additional hits like "Hannah Montana" and "Fight Night." However, their 2014 debut album, Yung Rich Nation, was a critical and commercial disappointment. Undaunted, Migos regained favor with the 2015 mixtape, Back to the Bando, while the single "Look at My Dab" helped turn the "dab" dance into a national craze. Their 2016 platinum-certified second album, Culture, yielded the number-one classic, "Bad and Boujee," and other memorable singles like "T-Shirt" and "Slippery." A third album, 2017's Culture II, brought "MotorSport," a hit with Offset's wife Cardi B and Nicki Minaj, but the circumstances around its recording fueled a rivalry between Cardi B and Nicki Minaj that has persisted ever since. The album also included the Pharrell Williams collaboration "Stir Fry," and "Walk It Talk It," a delightfully nostalgic homage with Drake to Atlanta's mid-Aughts "snap music" scene. Takeoff, Quavo, and Offset then embarked on solo projects, including Takeoff's 2018 venture The Last Rocket, but none of them could match the Migos spirit. They also featured on numerous songs by others, including the 2017 tropical house gem "Slide" with Calvin Harris and Frank Ocean. By the time of the group's third album, Culture III, they seemed overexposed and in commercial decline. This year, Quavo and Takeoff announced a new collaboration as Unc and Phew, sparking rumors that they were on the outs with Offset. A debut album, Only Built for Infinity Links, drew modest praise and a streaming hit, "Hotel Lobby."
Tame One (b. 1970): Newark rapper and one-half of Artifacts. Tame One epitomized the griminess of New York rap in the mid-90s, a sound that quickly fell out of favor among major labels yet managed to sustain a global cult audience. He and Artifacts partner El Da Sensei worked a unique one-two combo, with the latter's sharp and moralistic true-school verses giving way to Tame One's outrageously punchy and surprisingly introspective delivery. Tame One could shift from boasts about drug consumption and knocking out MCs to sorting out his life's problems within the span of a few stanzas. Formed in Newark and counting Tame One's cousin Redman among their peers, Artifacts memorably branded their image around graffiti art. The duo's 1994 debut, Between a Rock and a Hard Place as well as the singles "Wrong Side of Da Tracks" and "C'mon wit Da Get Down" are regarded as minor classics. A second album, 1997's That's Them, drew modest praise but was largely overlooked in a scene that had grown decidedly clubby and entranced by mafioso-like empire building. Undaunted, the duo released an excellent 1997 12-inch, "Brick City Kids," before drifting apart. Tame One remained active in the indie-rap underground, issuing solo work as well as collaborating with Del the Funky Homosapien and joining projects like the backpacker collective the Weathermen, the Leak Bros with Cage, and Slow Suicide Stimulus. Meanwhile, Artifacts occasionally reunited for one-off cameos. This year, they released a poignantly titled album with producer Buckwild, No Expiration Date.
Tdott Woo (b. 2000): Brooklyn rapper and dancer. He was best known for the single "Like Woo," creating the "Woo Walk" dance, and appearing in videos for Fivio Foreign and Pop Smoke.
Traxamillion (b. 1979): San Jose producer. Traxamillion produced Keak Da Sneak's "Super Hyphie," a 2005 single full of bounce and digital verve that helped change the sound of Bay Area rap. As one of the theme songs for the hyphy movement, its impact reverberates to this day. When hyphy took off in the late Aughts, Traxamillion continued to produce many of its pivotal moments, including the Jacka's "Glamorous Lifestyle," and San Quinn's "San Francisco Anthem." He also released several showcases under his own name, particularly 2006's The Slapp Addict, and produced tracks for City Girls ("Broke Niggas"), and the Lonely Island ("Weirdo").
Trouble (b. 1987): Atlanta rapper. While he never translated his industry reputation into solo mainstream success, Trouble was widely admired in Atlanta for his deft yet hard-bitten lyrical style. His mixtape work yielded streaming hits like "Bussin'" and collaborations like YFN Lucci's "Key to the Streets," the latter which reached the Billboard Hot 100 chart. That street buzz led to him signing with producer Mike Will Made-It and a critically acclaimed debut album, 2018's Edgewood, packed with cameos from Drake, the Weeknd, Quavo and Offset of Migos, and Boosie Badazz. In 2020, he followed up with Thug Luv.
Wavy Navy Pooh (b. 1994): Miami rapper. Signed to Atlanta label Quality Control Music, Wavy Navy Pooh earned notice for the song "MIAMI" from his 2020 mixtape, Murder Is a Major Issue. A 2021 follow-up, Endangered, yielded a streaming hit in "Money on My Head" with Moneybagg Yo.
Young Slo-Be (b. 1993): Stockton rapper. Young Slo-Be built a buzz with viral tracks like 2021' "I Love You" as well as a collaboration with the late Drakeo the Ruler, "Unforgivable."
Takeoff photo courtesy of Motown Records.
Coolio screenshot from "Gangsta's Paradise" courtesy of Tommy Boy.
DJ Kay Slay photo courtesy of The Nottingham Group.
PnB Rock photo by Chris Allmeid.
This post has been updated.
Humthrush.com will always be free to read and enjoy. If you like my work, leave a tip at Ko-fi.com/humthrush.