Last December, Peter Agoston invited me to participate in his podcast The House List. I've known Agoston for over two decades, dating back to when we both contributed to URB magazine. He currently manages Dam-Funk, occasionally issues music on his Female Fun Records imprint, and is working on a new project with Kendra Morris.
During our hour-long talk, we touched on a lot of topics. If you weren't immediately familiar with them — or if you had trouble understanding me due to my halting, sandpapery voice — then you might have not understood what we were talking about. So I decided to compile a cheat sheet that compiles most of the primary subjects we discussed.
As for my self-published 2015 book, Notes on Post-Millennial Rap? Unfortunately, it is out of print. You had to be there, I guess.
New Times: At the beginning of our conversation, we discussed my work for Miami New Times, where I was the music editor from 2003-2005. Then we talked about New Times' purchase of Village Voice media, and the company's subsequent imbroglio surrounding its Backpage.com franchise. You can read about the Backpage controversy at length on Wikipedia, among many other places.
(9:30 mark) Rawkus: Now-defunct New York label whose roster included Mos Def, Talib Kweli & Hi-Tek, Company Flow, and many others. I talk about how much of a fan I was of the label back in 1997.
(9:50) Biz 3: Longtime Chicago publicity firm founded by Kathryn Frazier. Initially known for its work with Definitive Jux and Chocolate Industries, Biz 3 now represents Skrillex's Owsla imprint and Migos, among others.
(11:05) Peter Bjorn & John: Swedish indie-pop band who conquered dance clubs with their 2006 single "Young Folks." I used it as evidence of how indie rock grew increasingly poppy and mainstream in the late 2000s, and why I stopped following the genre.
(12:40) SOHH.com: One of the oldest hip-hop websites, and a former contender (alongside Allhiphop.com) for online rap supremacy. I used to hang out in its message boards in the late 90s.
(12:50) URB: We discuss some of the Los Angeles magazine's esteemed alumni. Oliver Wang launched a pioneering blog, soul-sides.com. In 2011, he published Legions of Boom: Filipino American Mobile DJ Crews in the San Franciso Bay Area. Hua Hsu is a columnist for The New Yorker, and published his first book last year, A Floating Chinaman: Fantasy and Failure Across the Pacific. Jon Caramanica is a music and cultural critic at the New York Times. Dave Tompkins wrote an acclaimed 2011 book, How to Wreck a Nice Beach: The Vocoder from World War II to Hip-Hop, the Machine Speaks.
(14:50) Solesides: A Bay Area label/collective established by Blackalicious, Lyrics Born, Lateef the Truthspeaker, DJ Shadow, Joseph Patel, and Jeff Chang in 1993, and an early example of what later became known as indie rap.
(14:50) Underground street rap: The early 90s yielded a wave of mostly self-financed 12-inches by relatively unknown New York street rappers. The most famous example is Wu-Tang Clan's 1992 12-inch "Protect Ya Neck/After The Laughter Comes Tears." Others include Hostile Takeover's (later known as Blahzay Blahzay) "Good Cop, Bad Cop/Strike" and The Grimm Reaper's "So Whatcha Want Nigga!"
(15:10) Underground vs. mainstream: This was a debate among rap cognoscenti that peaked around 1999, and was symbolized by The Source's "The Over & Under[Ground]" cover with Mos Def, Pharoahe Monch, and Black Thought.
(15:35) Jay-Z, The Blueprint: I explain how Jay-Z's The Blueprint marked the end of rap media's fascination with underground/indie rap due to his canny use of 70s samples, his superior lyricism, etc. Ever since, rap fans and critics have been more concerned with the vagaries of the mainstream, a topic that deserves further explanation than I can give it at the moment. I cite Oliver Wang's 2001 year-end piece in the San Francisco Bay Guardian as proof of how onetime indie rap supporters seemed to shift towards more commercial fare. Unfortunately, it's not available online.
(17:40) Rhymesayers, Shapeshifters/Afterlife, Project Blowed, Rhymesayers, Stones Throw: All independent imprints and collectives that continued to thrive in the early Aughts despite minimal mainstream coverage.
(18:00) J Dilla: We discussed how J Dilla's work often went unrecognized during his lifetime, especially in the early Aughts after he left Slum Village and his solo deal with MCA foundered. He issued several 12-inches on ABB Records and Waajeed's Bling47 Records, and dropped his Ruff Draft EP on the German label Mummy Records. (Stones Throw reissued the latter in 2007.) It wasn't until he moved to Los Angeles and earned placements on Common's 2005 album Be that he got major label work again. When Dilla died, Phat Kat memorably told allhiphop.com, "Everybody wanna jump on the bandwagon saying, 'Dilla was this and Dilla was that.' My whole thing is, why motherfuckers didn't say that when he was here?"
(18:50) Slum Village: Dilla's former group who perplexed some listeners with their mix of soulfully amniotic beats and punchy, pimp-ish street raps. I compare their lyrics to the Chicago group Do or Die.
(19:50) Slum Village & Common, "Thelonious": "In a circle of faggots, your name is mentioned," Common raps during this song. This track, coupled with a rant he spewed during a Spitkicker.com showcase at San Francisco's Maritime Hall in 2000, led to charges that he was homophobic. (The concert also included Pharoahe Monch and De La Soul.) I wrote about the incident for the San Francisco Bay Guardian, but sadly it's no longer online. Perhaps chastened by the criticism, Common took pains not to use the word during his subsequent Like Water For Chocolate dates in SF, particularly a great concert at The Fillmore.
(22:20) Anticon: Agoston and I spent a few minutes talking about the Anticon collective: both he and I are personal friends with members of the crew. Hua Hsu was one of the first journalists to do a major story on them, thanks to his 2000 story in The Wire. We also talked about some of the collective's best albums — I mentioned Sole's Selling Live Water and cLOUDDEAD (which dropped via Mush Records) — and how rap fans dismiss them due to Sole's disastrous war of words against El-P.
(23:10) Odd Future: I compared Hsu's Anticon story in The Wire, which led to their first European distribution deal with Southern Records; with Andrew Nosnitsky's 2010 story in The Wire on Odd Future, which drew international attention to that collective. (BTW, The Wire is a small-ish UK music magazine that mostly focuses on experimental and underground music. I occasionally contributed to the publication between 2000-2006.)
(26:00) Shapeshifters: Criminally underrated L.A. collective that emerged in the mid-90s as the second wave in freestyle experimentation (the first being Freestyle Fellowship and the Good Life Café crew).
(27:00) Culturama: A pre-YouTube music video magazine — released on VHS tape and then DVD — that Agoston assembled in the early Aughts.
(27:20) Hiro Matsuo: Another figure from the turn-of-the-century indie rap scene. Similar to Agoston, he assembled Practicevideo magazine, and managed the Japanese label/distributor Mary Joy Recordings. He's also known as Vector Omega, assisting with some of Japanese rapper Shing02's early work.
(28:00) Nobody Knows My Name: This 1999 documentary by Rachel Raimist explores the struggles that women face in the rap industry as well as the culture at large. The film takes its title from a track on T-Love's Return of the B-Girl EP.
(31:20) We spent some time talking about the current class of rap women. All of the names — Rapsody, Cardi B, Sa-Roc, and Princess Nokia — should be familiar to you.
(35:00) Soulection: A weekly radio show that has not only built a worldwide following, but has helped popularize a wave of artists that fits into its aesthetic of laptop soul, conscious rap, and deep, house-y grooves. Artists include Smino, Goldlink, Sango, Kaytranada, and others.
(35:15) Okayplayer.com: Founded by Questlove of the Roots in 1999, and widely known for housing the "progressive" wing of mainstream rap. In the Aughts, its contentious message boards helped birth a generation of rappers with similar aesthetics, including Tanya Morgan, Little Brother, Strange Fruit Project, and others.
(38:45) Busdriver: An L.A. rapper who is one of the last active links between the Project Blowed era of the mid-to-late 90s and the current vogue of studious experimental rap personified by Milo, Open Mike Eagle and others. His 2005 watermark Fear of a Black Tangent is worth seeking out.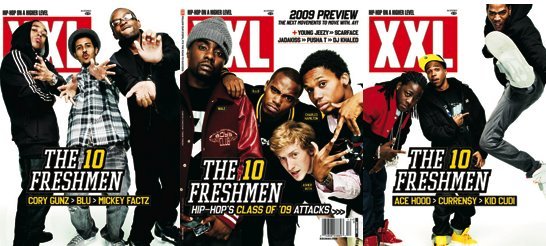 (39:00) Blog rap: A clumsy term for the post-indie rap era, roughly 2007-2009, before Drake made everything go pop and Chicago, Florida, et al took over the Internet. We discussed the Detroit-L.A. connection (J Dilla, Ta'Raach, etc.) and XXL's memorable 2009 "Freshman" cover with Blu, B.o.B, Wale, Asher Roth, Kid Cudi, Curren$y, etc.
(40:40) Big Sean: I talked about a Big Sean concert at the Sacramento Garden Pavilion in 2011. Despite not having an album or a hit single out — "My Last" with Chris Brown had just been released — he sold out the venue, and entertained for an hour and a half with material from his Finally Famous mixtapes. The crowd seemed to know many of his songs. It was when I realized how popular rappers mostly known via the Internet had become.
(42:20) Wiz Khalifa: I discussed how Wiz Khalifa began his career as a Cassidy-style street rapper on tracks like "Youngin On His Grind" and "Pittsburgh Sound." It wasn't until his EDM single "Say Yeah" that he began to evolve into the stoned pop-rapper we're familiar with.
(44:40) Street stoners: Another awkward term, this time to define pothead rappers like Curren$y, the Alchemist, Action Bronson, etc.
(45:15) Soundcloud rap: Agoston noted that he has been listening to Trippie Redd and Ski Mask the Slump God, both of whom are currently defined under yet another awkward term, "Soundcloud rap."
(46:20) Authors Records: Jonwayne's label. Last year, it issued two strong releases, Jonwayne's Rap Album Number Two and Danny Watts' Black Boy Meets World.
(48:40) David Toop, Rap Attack: Originally published in 1984, Rap Attack is one of the first histories of the New York hip-hop scene. (Also worth mentioning is Steven Hager's 1984 book Hip Hop: The Illustrated History of Break Dancing, Rap Music, and Graffiti.)
(49:00) Early West Coast rap: I noted that the first edition of Toop's book focused solely on the New York movement, and omitted then-emerging scenes in Los Angeles and Miami. Then I cite my book, which attempts to distinguish between electro-rap and the seeds of what would become West Coast gangsta rap. Examples include Kid Frost's "Terminator," Ice-T's "The Coldest Rap," World Class Wreckin' Cru's "Gang Bang You're Dead," and Sound Master Crew (which featured Coolio).
(50:45) Eminem: We had a lengthy discussion about Eminem, his uncertain legacy, and that damned 2003 Rolling Stone cover about "The Genius of Eminem." For more, read my 2010 review of Eminem's Recovery.
(56:20) DJ Stef: Stephanie Ornelas was an influential Bay Area DJ, promoter, writer, designer, and whatever else she set her mind to. She tragically passed away in September 2017. I am very grateful to have known her as a friend for two decades; and she graciously created some free designs for my last blog, Plugonemag.com.
(57:50) "80s Black Crossover": A blog post I wrote for Rhapsody.com in 2012.
(59:40) Kraftwerk on KSOL-FM: We discussed the early 80s and the progressive nature of Black radio at the time. I pointed out how Dam-Funk — whom Agoston manages — hails from this open-eared legacy. I remembered the pioneering Bay Area video show Magic Number Video with Isaac Stevenson, and how clips like Freeez's Arthur Baker-produced electro jam "IOU" got played on this Black music showcase. I recalled how I heard Kraftwerk for the first time when KSOL-FM played their 1985 single "The Telephone Line." "Hip-hop is just a way to view the world. It's not a way to shut yourself off from the world," I said.
(1:04:00) Teddy Pendergrass: My first concert was Teddy Pendergrass at Circle Star Theater in 1979.
(1:04:50) Luther Vandross: The first concert I actually remember, though, is Luther Vandross's Busy Body tour at Circle Star Theater in 1984. DeBarge was the opening act.
(1:06:10) FM20: More live memories. FM20 was a rap duo that briefly made noise in the San Francisco Bay in the early 90s. Today, they're best known for their three DJs — Q-Bert, Mix Master Mike, and DJ Apollo — then known as the Rocksteady DJs, and who later became Invisibl Skratch Piklz. (I went to college with one of the rappers.) Seeing FM20 perform at the Stone Pony in 1992 was a transformative moment for me.
Originally published on criticalminded.com. This post has been updated.
Humthrush.com will always be free to read and enjoy. If you like my work, leave a tip at Ko-fi.com/humthrush.